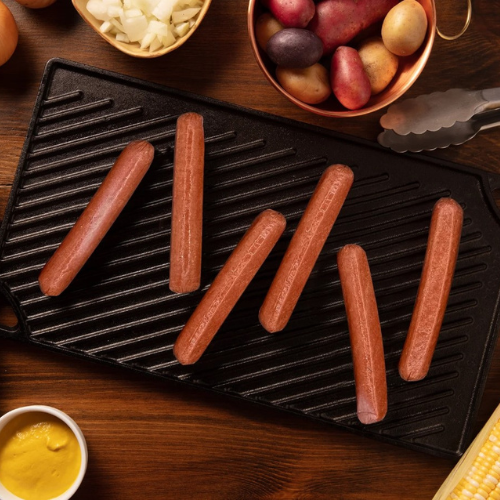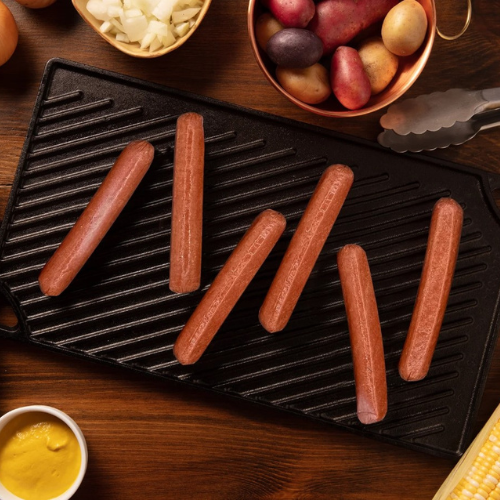 Grass-Fed & Finished
Beef Hot Dogs
Easy to cook and naturally seasoned, our Beef Hot Dogs are a cleaner alternative to what you'd normally find in the store. A must-have whether you're tailgating, looking for a quick weeknight meal, hosting a backyard gathering, or feeding picky eaters.

One 12oz package consists of six individual dogs (6ct).
Beef Hot Dogs: Beef, Water, 2% or less of Sea Salt, Turbinado Sugar, Spices, Garlic Powder, Onion Powder, Cultured Celery Juice Powder

No Nitrites or Nitrates added except those naturally occurring in celery juice and sea salt.

Fully Cooked - Not Preserved - Keep Refrigerated or Frozen below 40degF at all times
Beef Hot Dogs
Sourcing
cut qualities
Cooking
Heritage Beef | Jackson County, Iowa
Luna Valley Farm | Winneshiek County, Iowa
Whippoorwill Creek Farm | Monroe County, Iowa
Earth-Be-Glad Farm | Winona County, Minnesota
Knutson Shorthorns Farm | Goodhue County, Minnesota

Best prepared boiled in water or cooked on the grill.
FREQUENTLY ASKED QUESTIONS
FAQ's
Do I have to be a member to order?
Nope! Membership is optional. It's a great way to get the most out of 99 Counties so we highly recommend it!
As a regional brand, we're proud to deliver to customers living within a day's drive our farmers. We can deliver to any physical address within 100 miles of our Keystone, IA headquarters or 60 miles of its Naperville, IL warehouse.
When will my order be delivered?
Orders received by 11:59pm CST on Wednesdays will be delivered between the hours of 7am and 10pm CST of the following week.
Do I have to be home to receive my delivery?
Nope! Your order will be delivered frozen, with enough insulation and/or dry ice to remain frozen for a minimum of 8 hours in the case of doorstep delivery.
What is the cost of delivery?
We charge a flat-rate delivery fee of $15. Members receive FREE delivery on orders of $75 or more.
Is your meat hormone, antibiotic, and insecticide free?
Yes, yes, and yes! Our beef, pork, and poultry is hormone, antibiotic, and insecticide free. Our farmers also protect and promote living soils by avoiding synthetic herbicides, pesticides, and nitrogen fertilizers. All of our meat is 100% chemical-free.
99 Counties membership
With a 99 Counties membership, you'll enjoy the Midwest's best regenerative meat, served with a delicious side of special benefits.
Lower pricing
Save 20% on every piece of meat you purchase.
Free Delivery
Receive free delivery on orders of $75 or more.
Priority Access
Enjoy early access to new products, seasonal sales, & more.
More to Come
Be the first to know when new member benefits launch.