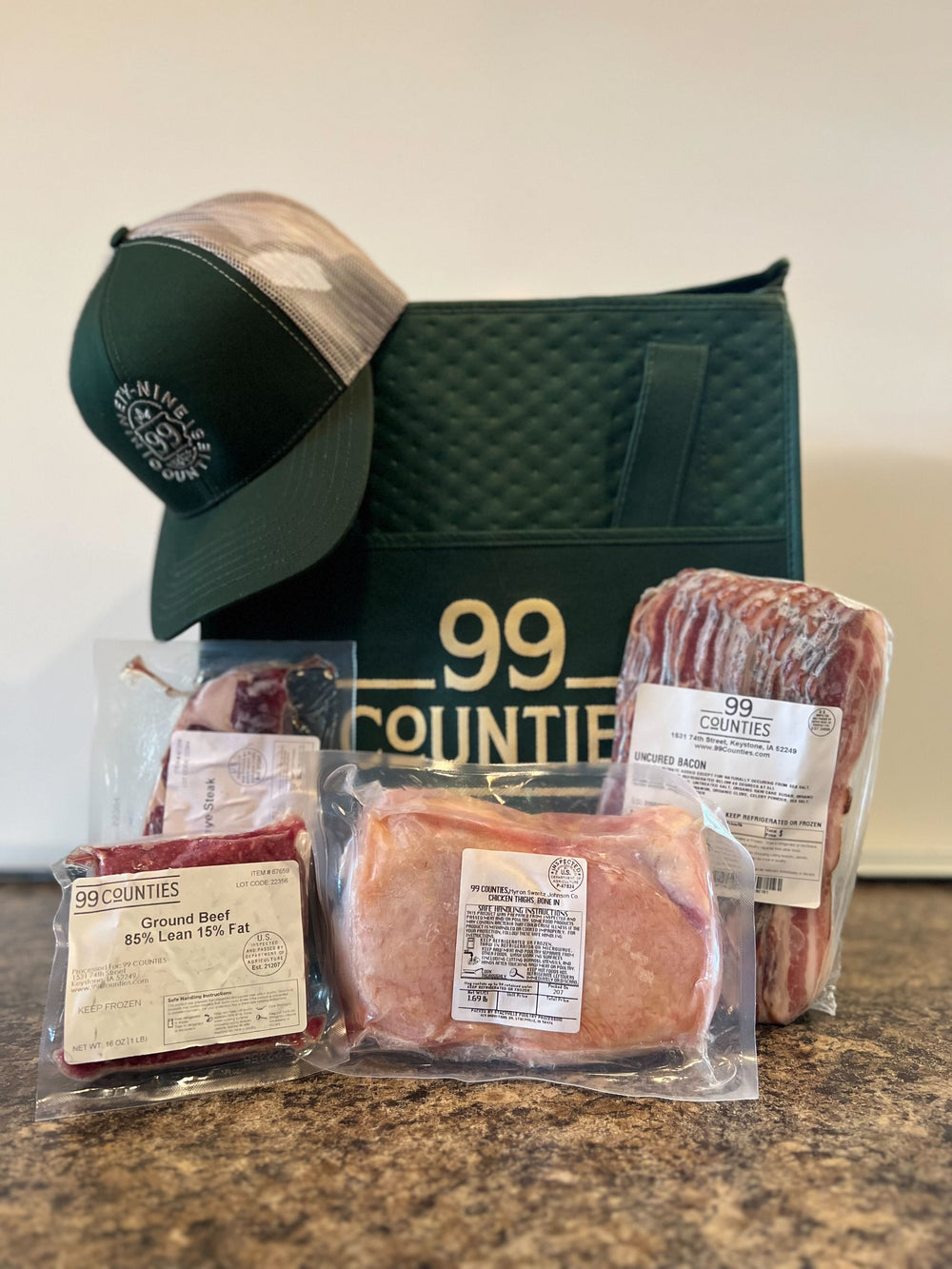 99 COUNTIES MEMBERSHIP
$199/Year = 20% Off All Items
With a 99 Counties membership, enjoy 20% off everything (excluding subscription bundles)! Become a member today and receive our Welcome Bundle including a variety of our favorite cuts and a FREE 99 Counties hat!
HOW 99 counties MEMBERSHIP WORKS
Looking for more value? Greater impact? Consider a 99 Counties Membership! Our members enjoy special benefits and distinct standing within our community, as committed patrons and critical supporters of our mission. Membership is optional and available to all customers. 
We Farm
By empowering regenerative farmers and paying them fairly, we're restoring America's heartland, combatting climate change, and building a more sustainable food system.
You Shop
Choose from our extensive catalog of our beef, pork, and poultry products. As a whole animal brand, you'll notice a wider variety of popular and prized cuts of meat. As a member, enjoy special benefits throughout the customer experience.
we deliver
We bring the farmers market directly to your door! Enjoy the convenience of next-week delivery, from a business you can trust. We personally pack each order with care.
Cook & enjoy!
Frozen at the peak of freshness, 99 Counties meat makes home cooked meals more delicious. Prepared simply, with your favorite recipe, or for the center of the table, choose higher-quality wholesome local ingredients and taste the difference.
Already a Member? Login Now
membership benefits
We're here to make local food raised by farmers practicing regenerative agriculture easy and affordable to get. As a member, you will be supporting our mission to change agriculture in our region while enjoying the best tasting meat our Midwestern foodshed has to offer.
20% Off
Save 20% on every order, starting as soon as you checkout with a membership in your cart! (excludes subscription bundles)
Free Delivery
Receive free delivery on orders of $75 or more (Iowa/Illinois/Wisconsin customers); free delivery on orders of $150+ for customers in all other states
Priority Access
Enjoy priority access to seasonal sales, promotions, & more.
Welcome Bundle
Get 1 ribeye, 1 lb of bacon, 1 lb of ground beef, 4 chicken thighs, and a trucker hat for free with the purchase of your membership!
"We have always enjoyed so much about your products, and have been loyal customers for years. The beef brisket is an extra special treat; which I buy whenever it is available. Thank you for raising such wholesome meat!"
— Janis S.
"We have been customers of Wallace Farms for a decade and everything is always delivered on time, and delicious. Thank you for a healthy alternative! Best "butcher" ever!"
— Ann K.
"Thank you from the bottom of my heart for providing healthy meat I can feel good about feeding my family."
— Joey G.
FREQUENTLY ASKED QUESTIONS
FAQ's
Is membership required to place an order?
Nope! Membership is optional. It's a great way to get the most out of 99 Counties so we highly recommend it!
How much does it cost to become a member?
The fee for membership is $199 per year. Memberships auto-renew annually until cancelled.
How do I receive my 20% member discount?
Simply log into your account! Your 20% member discount will automatically apply to all eligible items.
How do I receive my free delivery member benefit?
If you are in Iowa, Wisconsin or Illinois add $75 or more of product to your cart and log into your account before or during checkout. From there, your free delivery member benefit will automatically apply to your order. For all customers in other states the same logic applies but for orders above $150.