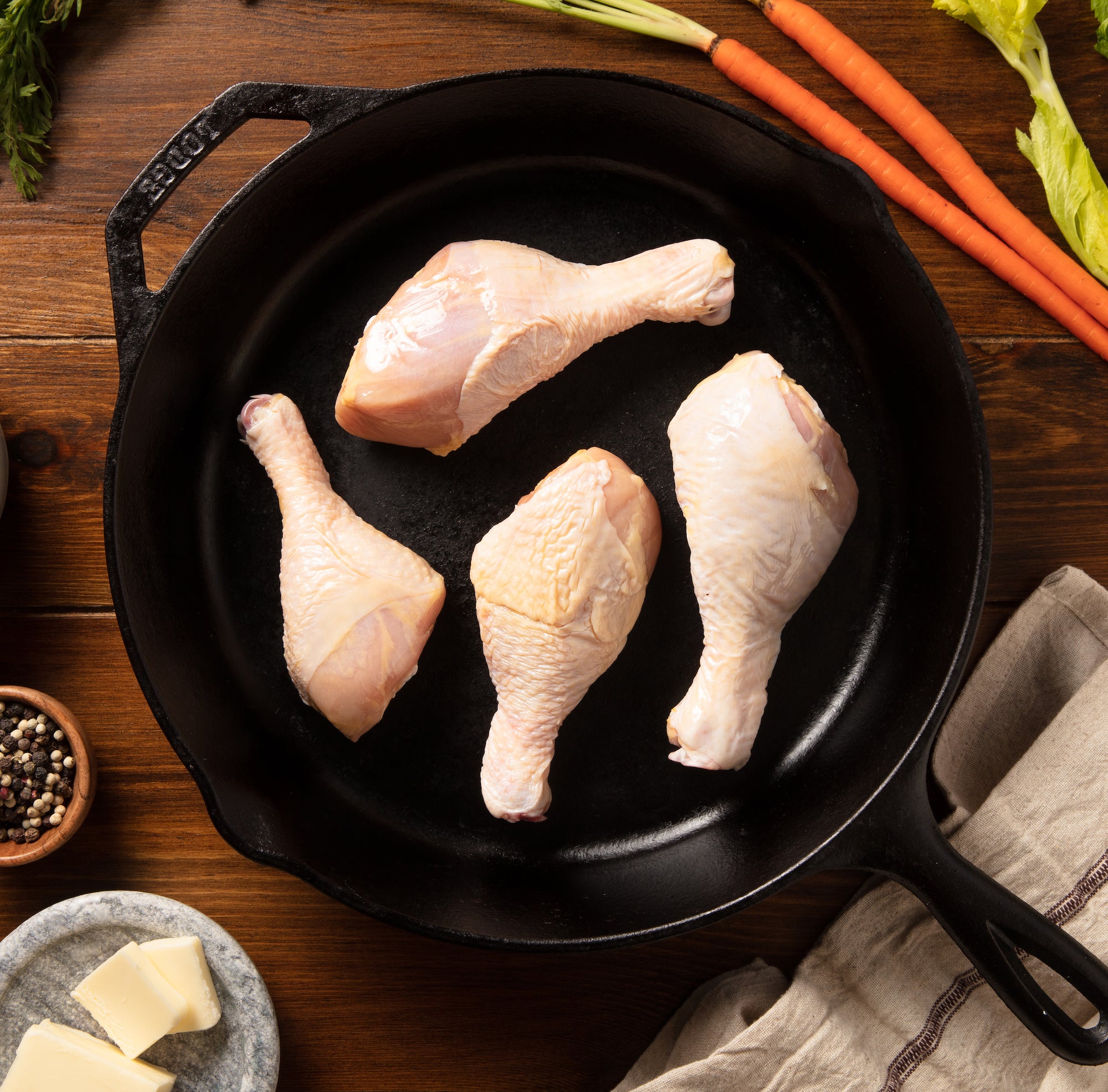 Chicken Drumsticks
Tender, dark meat Chicken Legs are as versatile as they are delicious. Also known as drumsticks, they star in a variety of family-friendly dishes. Did we mention, crispy skin?
1lb consists of four individual drumsticks (4ct)
BULK SAVINGS
10lbs & 20lbs available (note: our free range chickens naturally vary in weight, 10lbs will be a range of 9.5-10.5lbs and 20lbs will be a range of 19.5-20.5lbs)
Chicken Legs
Sourcing
cut qualities
Cooking
A familiar cut from the leg of the chicken, it's the way ours are raised that makes the difference.
Echo Dell Organic Farm | Washington County, Iowa
Nisley Farm | Washington County, Iowa
Miller Farm | Washington County, Iowa
Zimmerman Farm | Mitchell County, Iowa

Great grilled, fried, or roasted, breaded or simply seasoned, cook to 165°F for supremely juicy drumsticks.
FREQUENTLY ASKED QUESTIONS
FAQ's
Do I have to be a member to order?
Nope! Membership is optional. It's a great way to get the most out of 99 Counties so we highly recommend it!
All of the lower 48 states
When will my order be delivered?
Orders received by 11:59pm CST on Sundays will be delivered Tuesday - Saturday of the upcoming week. All orders placed thereafter will ship out the following week. For example: If you place your order on a Monday it will be delivered the following week.
Do I have to be home to receive my delivery?
Nope! Your order will be delivered frozen, with enough insulation and/or dry ice to remain frozen for a minimum of 8 hours in the case of doorstep delivery.
What is the cost of delivery?
We charge a flat-rate delivery fee of $15. Members receive FREE delivery on orders of $75 or more.
Is your meat hormone, antibiotic, and insecticide free?
Yes, yes, and yes! Our beef, pork, and poultry is hormone, antibiotic, and insecticide free. Our farmers also protect and promote living soils by avoiding synthetic herbicides, pesticides, and nitrogen fertilizers. All of our meat is 100% chemical-free.
99 Counties membership
With a 99 Counties membership, you'll enjoy the Midwest's best regenerative meat, served with a delicious side of special benefits.
Lower pricing
Save 20% on every piece of meat you purchase.
Free Delivery
Receive free delivery on orders of $75 or more.
Priority Access
Enjoy early access to new products, seasonal sales, & more.
More to Come
Be the first to know when new member benefits launch.