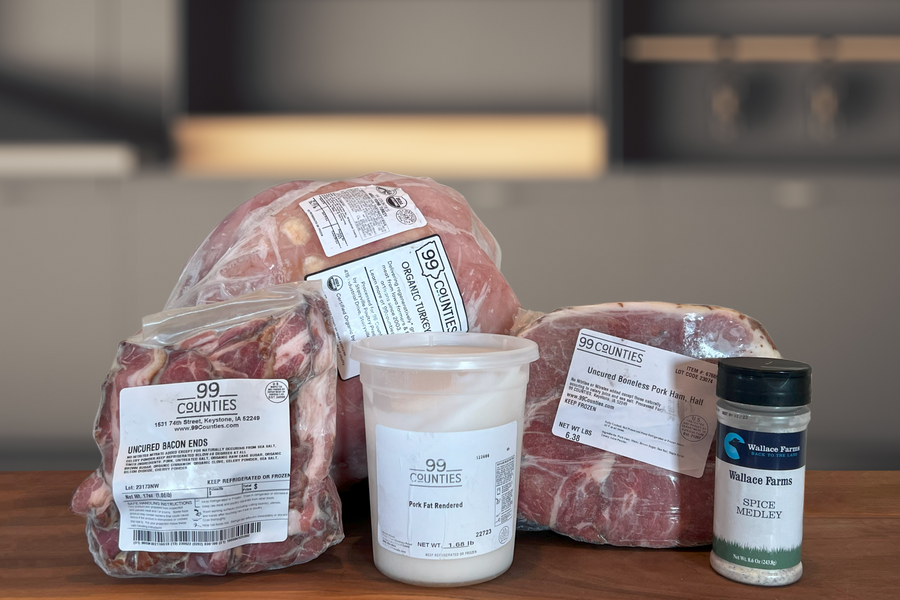 Pre-Order
Thanksgiving Bundle
Pre-order your free-range and certified organic Turkey!
In this bundle, you will get:
-An Organic Turkey
-A 7-8lb Boneless Ham
-25oz Pork Lard - Perfect for pie crust
-1lb Bacon Ends - Great with green beans
-Spice Medley All Purpose Seasoning 
If you add this bundle to your order with other items we will deliver the other items the same week that you select here: November 6th or November 13th.
Our turkeys are raised by the Jewell Family in Decorah, Iowa.
Thanksgiving Bundle
Sourcing
cut qualities
Cooking
Jewell Enterprizes | Winneshiek County, Iowa
Nestled in rolling hills near Decorah, Iowa, the Jewell family has been raising poultry on their family for over a century.
Use these tried and true tips to improve any recipe:
Let your turkey sit at room temperature before cooking.
Truss the turkey legs to reduce moisture loss while cooking.
Tent your turkey with foil if the skin begins to brown too quickly.
Allow your turkey to rest fully after cooking.
FREQUENTLY ASKED QUESTIONS
FAQ's
Do I have to be a member to order?
Nope! Membership is optional. It's a great way to get the most out of 99 Counties so we highly recommend it!
As a regional brand, we're proud to deliver to customers living within a day's drive our farmers. We can deliver to any physical address within 100 miles of our Keystone, IA headquarters or 60 miles of its Naperville, IL warehouse.
When will my order be delivered?
Orders received by 11:59pm CST on Wednesdays will be delivered between the hours of 7am and 10pm CST of the following week.
Do I have to be home to receive my delivery?
Nope! Your order will be delivered frozen, with enough insulation and/or dry ice to remain frozen for a minimum of 8 hours in the case of doorstep delivery.
What is the cost of delivery?
We charge a flat-rate delivery fee of $15. Members receive FREE delivery on orders of $75 or more.
Is your meat hormone, antibiotic, and insecticide free?
Yes, yes, and yes! Our beef, pork, and poultry is hormone, antibiotic, and insecticide free. Our farmers also protect and promote living soils by avoiding synthetic herbicides, pesticides, and nitrogen fertilizers. All of our meat is 100% chemical-free.
99 Counties membership
With a 99 Counties membership, you'll enjoy the Midwest's best regenerative meat, served with a delicious side of special benefits.
Lower pricing
Save 20% on every piece of meat you purchase.
Free Delivery
Receive free delivery on orders of $75 or more.
Priority Access
Enjoy early access to new products, seasonal sales, & more.
More to Come
Be the first to know when new member benefits launch.